On October 3, Consumer Reports launched Permission Slip, an app that makes it easy to take back control of your personal data. Since then, many users have inquired about how the app works behind-the-scenes, wondering what happens to their privacy requests once they are submitted. In this post, I'll provide an inside scoop on how Permission Slip works every day to help make sure companies honor your right to privacy.
Permission Slip is an "authorized agent"
Consumer Reports has been involved in advocating for privacy rights for a long time. When states started to pass their first privacy laws, we saw that the data rights we fought so hard for were confusing and time-consuming for most people to use. One provision in California privacy law caught our attention: it described an "authorized agent," or a third party that consumers can authorize to send data requests for them. In Permission Slip, Consumer Reports serves as an authorized agent by liaising with companies on your behalf.
When you send your first request in Permission Slip, we ask you to verify your email address and phone number, and to sign an agreement authorizing Consumer Reports to act as your agent. When you do this, you give our team the ability to talk to companies and help manage your data on your behalf.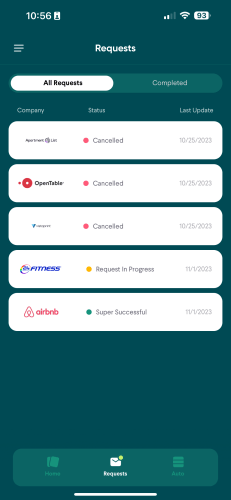 Helping you submit privacy requests
When you tap "Send Request" in Permission Slip, there's a lot going on behind the scenes. Your tap triggers an email to the company expressing your request and providing proof that you designated Consumer Reports to submit your request for you.
Some companies don't accept requests over email, in which case our team steps in to help. Specifically, many companies provide a privacy form on their website that we fill out on your behalf. 
Companies who receive large numbers of requests often contact the Permission Slip team to explore how we can exchange requests more efficiently. We offer various "bulk processing" programs and are always happy to discuss how to exchange requests in bulk with companies.
Tracking the status of your privacy requests
Once your request is submitted, members of our team pay close attention to make sure the request gets processed.  Some companies may reach out to you directly asking you to verify your identity, either by clicking a link in your email or by signing into your account. When you do this, we always appreciate it if you can update the status of your own request so that we know your identity has been verified, and we can step back in to help make sure your request gets resolved. 
When your request has been successfully fulfilled, our team will update the status of the request in the system and you'll see a party hat in your app to celebrate. Sometimes requests cannot be completed or are rejected by the company. When this happens, we update the request in our system so you're aware.

Save Your thumbs- Enroll in Auto Requests
If you find you're tired of sending requests to companies one-by-one, we recommend enrolling in our "auto request" feature.With auto requests there is no need to click through and select specific companies, because we automatically include a large number of data brokers and tell them to stop selling your data on your behalf. Data brokers are entities that collect information about consumers, and then sell that data (or analytic scores, or classifications made based on that data) to other data brokers, companies, and/or individuals. These data brokers do not have a direct relationship with the people they're collecting data on, so most people aren't even aware that the data is even being collected.
Where we are, Where we're going
We have currently saved our users over four million hours( yep that's right, over 456 years worth of fumbling through Privacy Policies) and about three million emails by submitting requests for you (Our inboxes have never looked better!). These numbers climb higher every day and you can see them live on your Data Dashboard inside the Permission Slip app.
We're excited to continue to build Permission Slip to be the best tool for taking back control of your privacy.  In the meantime, if you have any feedback, suggestions, or any other questions, feel free to reach out via permissionslip@cr.consumer.org. We'd love to hear what you have to say about the app and are excited to continue working with you on perfecting our process.